Audrey Ross: Tweed's Queen of Watercolour
A great story from the Quinte Arts Council's Cultivating Creativity column in the Belleville Intelligencer on local legendary artist Audrey Ross, by Paul Kite (Quinn's of Tweed Fine Art Gallery)… if you haven't checked out Paul's weekly column on the arts in The Tweed News, you should do so… You can see Ross's work at her home in Tweed, The Tweed Heritage Center (including a month-long exhibit in October), and at Quinn's of Tweed Fine Art Art Gallery.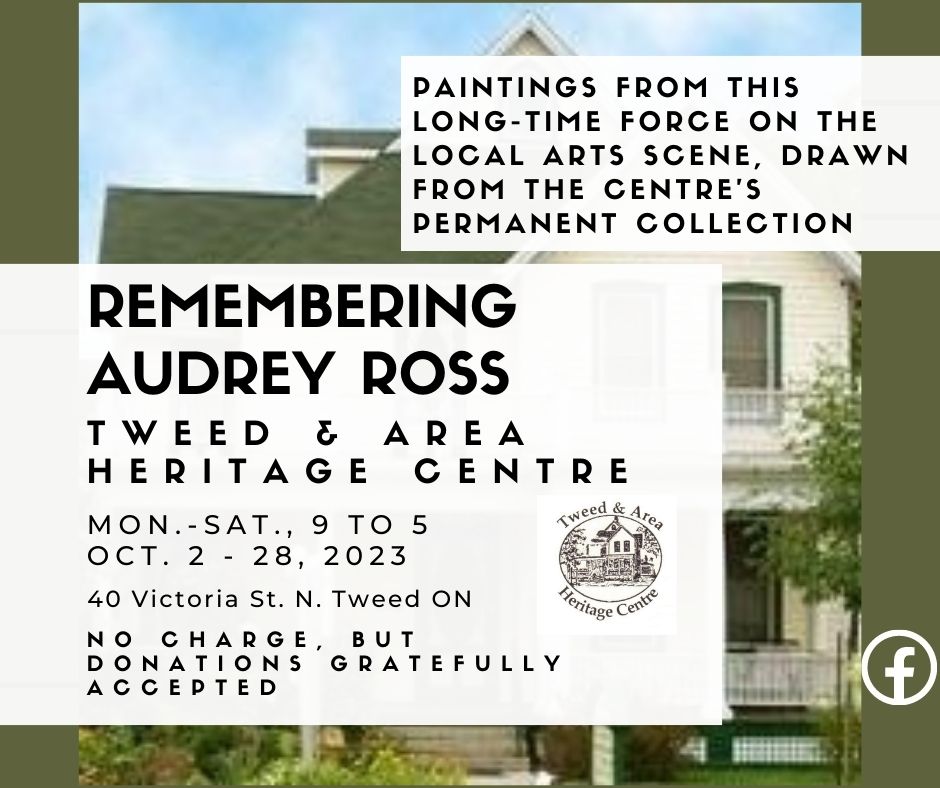 Highlights: "When asked what advice the nearly 95-year-old would give to new artists, Audrey Ross said, "Just go for it baby! Young or old, just be yourself, and don't hold back."
This is what Ross has done in her life and art.
Ross was born in Moosejaw, Saskatchewan in August 1928. Her father was a firefighter, who would eventually find his way to Ottawa to become the Chief Fire Marshall. Ross attended school in Ottawa, including art lessons. It is in Ottawa where she met her future husband and became a mother of three. Ross lived in many cities across Canada before landing in her final destination: Tweed.
Art has been a passion all her life. Ross drove her mother and teachers crazy by drawing in the margins of her school textbooks. She recalls that her art lessons in Ottawa were very formal, which did not suit her style or character. Ross's art process would undergo a transformation later in life when she travelled to Actinolite to attend the Schneider School of Fine Art in 1975. John Bennet was an instructor at the school, a watercolourist, who would become a good friend and have a significant impact on her. She told Bennet about her "formal" training, how precise she was taught to draw, and moreover about staying within the lines.
Bennet's philosophy was just the opposite. Bennet encouraged her to loosen up, and paint not just what you saw but how the subject makes you feel, and gave her this exciting piece of advice: paint outside the lines all you want. Bennet's mentorship set her free, and she never looked back. Ross's work is quiet and calming. The subtle structure and a balance of muted and colourful luminosity shines through her watercolours of landscapes and rural settings such as rivers, dams, forests, and farms."
Click here to read the full article !